The most important room in a dental practice is the STERILIZATION ROOM.  In the setting up and daily operation of a Dental Clinic, most designers and clinic layouts focus on a flash and inviting reception area, well laid out clinical rooms and possibly a cozy private consultation space. Yet, the most important in any Dental Clinic is the Sterilization room and facilities for strict protocols.
The design of a Sterilization room must be aimed at preventing 'cross-contamination' because all around this space, infected instruments are brought in and put through the sterilized equipment. Staff must be well trained and certified to perform these processes and a strict record of each batch of instruments must be maintained. The extreme risk of spreading Hepatitis, HIV, COVID 19 and other serious infections is ever present in a Dental Clinic.
When designing Caring 4 Smiles in Epsom, we designed the Sterilization Bay to an exemplary hospital standard. Our protocols far exceed the standard of care, and our staff are uncompromising is their systems. Each member monitors the other and sterilization records are maintained for spot verification. In a recent audit of our dental practice facilities by the Dental Council of New Zealand, we were complimented by the auditor for our highest standard.
We invite every patient to view and inspect our facilities as the first step to 'choosing a dental clinic' for themselves and their family. Processing of dental instruments has a strict protocol and lives and families are at risk when short-cuts and compromised processes are used. An inspection of a Dental Clinic must be your first step to choosing a dentist. Look for signs of shabby protocols. Used instruments must always be sealed in the clinic before being transported to the sterilization room. The seal must only be opened when the box is being processed. This is the first step to infection containment.
Be intolerant of a risk that can change your life and that of your family. Some infections like HIV and Hepatitis C cannot be cured.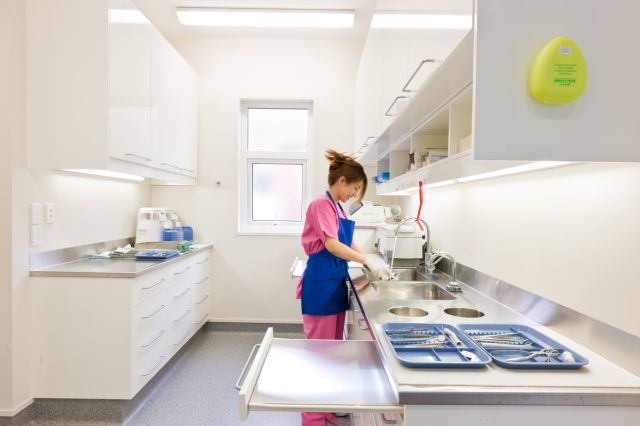 Recently, a health scare at an established dental clinic in Tulsa, Oklahoma, sent shock waves through the United States and serves to highlight the point of a breach of trust. Up to 7000 patients are exposed and must be tested for HIV and Hepatitis. The clinic had shoddy sterilization and clinical processes and a patient's complaint triggered the investigation.
https://edition.cnn.com/2013/03/29/health/oklahoma-dental-warning/index.html?iref=storysearch
Caring 4 Smiles at Epsom, Auckland invites every patient to view our sterilization protocols and see our operation at work. Call us on 09-6315416 or email us at  [email protected]