Our Logo
In the creation of our logo, we wished to embody our work, practice philosophy and represent our clinical excellence. We considered many designs but none was truly representative of Caring 4 Smiles.
We created a Sail-boat with 2 figures on deck.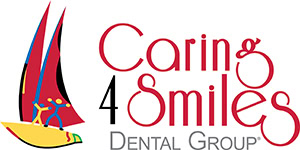 To have beautiful teeth for life an individual must have an enduring and goal aligned relationship with a Practice committed to excellent preventive and general dental care. This is a trusting long term relationship, embodied very much in a journey one may take on a sail-boat.
An individual does not consider a sail-boat (for travel i.e. from Auckland to San Francisco) unless every detail is carefully aligned and thought through. The crew must be competent and easy to get along with, the boat must be a finely crafted modern and safe machine, and every individual on the boat participates in the 'routine'. No one is an unengaged passenger. All know exactly what is expected for the trip to be safe, successful and memorable.
A sail-boat is never rushed, as it is not about 'getting there'. If it was all about speed, 'catch a plane'. Additionally, one does not 'step off' in mid-ocean, but works through the storms and the placid phases of the trip, to enjoy the 'life of the journey'.
On a sail-boat we recognize and work with the forces of Nature that often tosses Life's things around, the excellence of the crew who keep the boat safely on track and the warmth of the inter-personal relationships. The end point gratification is knowing that there was potential for disaster along the way, but we made it.
Our logo represents our dedication to every patient who searches for a practice committed to excellence on the journey.
The two figures on deck represent several individuals. Firstly, they represent the partnership between You, our patient and us, the Team. They also represent each one of us as individuals, steering an enriching path through life, for our spouse and our children.
We want YOU to choose US for your journey to excellent Oral care.